1. What material can you wash the shoes with?
Most canvas sneakers, sneakers, indoor shoes, and slippers are washable. You can easily wash shoes made of cotton, nylon, canvas and polyester. Do not put shoes made of leather or suede, shoes with embellishments such as sequins or embroidery, high heels or doll shoes in the washing machine.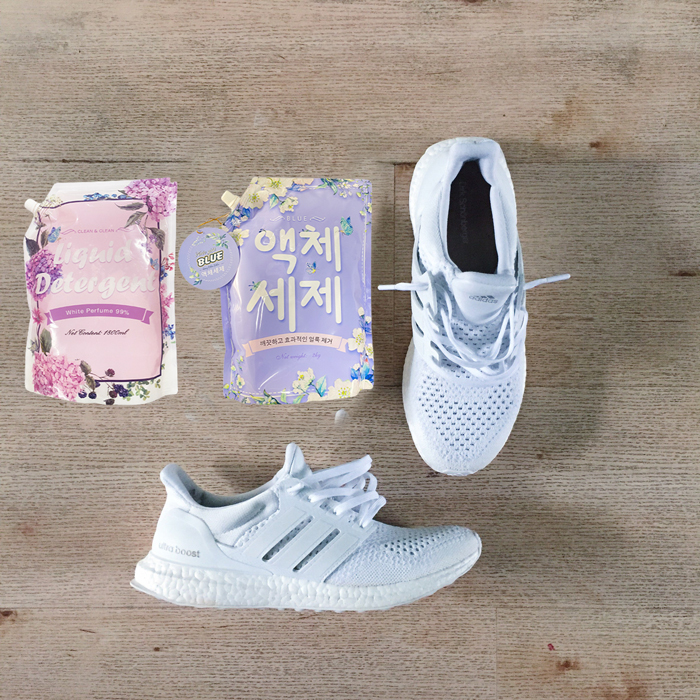 2. Instructions on how to wash shoes properly and in detail
Cleaning your sneakers keeps them smelling fresh, extending their life without taking much time to do. Cleaning shoes by hand or putting them in the washing machine is possible and requires the addition of additional water.
You can even clean the soles of your shoes to smooth them out without having to clean the whole thing. Whichever method you choose, you'll get clean shoes that look (and don't smell) much better by following the steps outlined below.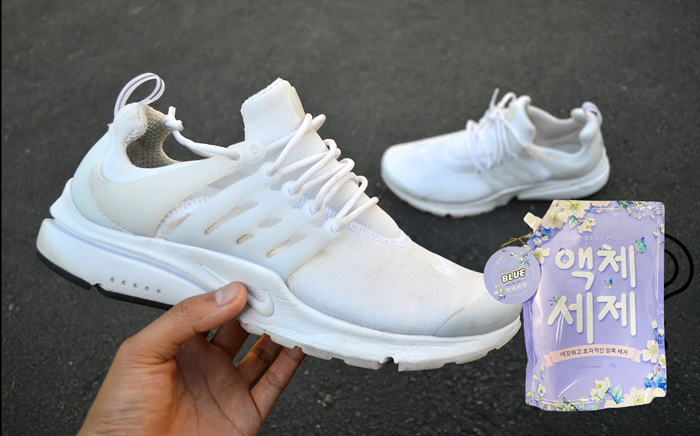 2.1. Should shoes be washed with laundry detergent?
Whether you wash your shoes by machine or by hand, use cold water as hot water can dissolve the glue that sticks the shoe parts together. Use only liquid laundry detergent, not detergent. Do not add bleach or vinegar, as this can damage the soles of your shoes. Also, do not add fabric softener as it leaves a coating that can attract a lot of dirt and odors.
2.2. How to wash tennis shoes or sneakers
Step 1: Check the shoe's label.
Look inside the shoes for the manufacturer's care instructions and see if they have a laundry warning or a specific temperature setting recommendation. Follow the manufacturer's advice on these matters to protect your shoes. Most will recommend hand washing. You should always use cold water when washing your shoes, as the heat can damage them.
Step 2: Remove the lanyard and insole.
The laces can get tangled during the wash and prevent your shoes from fully opening up for a full wash. Remove them as well as the pads separately. You can wash it in cold or warm water with a little bit of shoe detergent, or put it in a mesh bag or pillowcase and machine wash it.
Step 3: Treat the stain.
Use an old toothbrush or scrub brush to remove excess dirt from the soles of your shoes. Or, you can simply use white shoe cleaner, baking soda, or white toothpaste. Use a toothbrush to scrub the stain, wait for 5-10 minutes and then wipe it off with a damp microfiber cloth.
Step 4: Washing methods.
To wash your shoes in the washing machine, put them in a mesh laundry bag or tie a pillowcase at the top if you prefer. Add a few old towels to the machine to balance the load and reduce the sound of shoes in the drum. Choose a small, gentle cycle and do not set spin at the end of the wash. Take your shoes out of the tub as soon as the wash cycle ends.
To wash shoes by hand, fill the sink or sink with cold or warm water and pour in the sneakers. Sprinkle with a few drops of tea tree oil for extra shoe deodorization if you wish. Submerge your shoes and use an old toothbrush to scrub them from the inside out. Be careful around the eyelets so that the bristles don't get caught in them. Take the shoes out of the bucket and pour the soapy water out. Rinse the shoes in cold water until the soap is gone.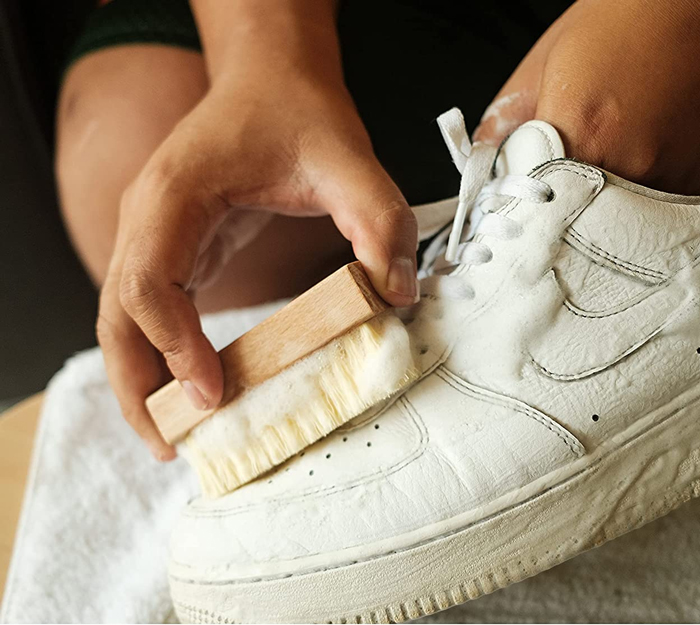 Step 5: Let dry.
It's best to air dry your shoes naturally as the heat of the dryer can damage or shrink them. Tuck a dry rag into the shoe and squeeze gently to absorb moisture and speed up the drying process. Remove the damp towel and place the shoes in a well-ventilated place, out of direct sunlight and away from the vents of the heater. If you wash the insoles separately, squeeze them in a thick towel to absorb the moisture, then let them dry next to the shoes. Repeat with the laces.
Shoes can take up to a day to dry, so plan ahead for use cases if needed. Don't try to dry it faster by using a hair dryer, as heat can warp your shoes.
How often should you wash your shoes?
Sneakers and sneakers are designed to last 300-500 miles. During that time, you should plan on washing them no more than once a month. If you have problems with shoes smelling between washes, use a spray or homemade shoe deodorant powder.
2.3. Cleaning leather or suede shoes
To clean leather shoes, wipe them with a cloth lightly moistened with equal amounts of distilled white vinegar and cool water, in a 1:1 ratio. Dry immediately with a new cloth. Then, keep the leather shiny to remove dirt and stains.
To clean suede shoes, use a soft-bristled toothbrush to remove dirt. Use a dry cleaning sponge to remove other stains or try these tips to remove salt stains from suede shoes.
3. Tips to keep your shoes clean
To remove dirt from shoes, use a rubber spatula or bristle brush to brush the dirt off as much as possible. Let the rest of the mud dry, then slam the soles together outside to loosen more mud. You can either spray the soles of your shoes with water to loosen the mud and scrub them with an old toothbrush, or perform the steps of washing your shoes by machine or by hand.
Clean up small spills on fabric uppers using warm water, laundry detergent, and an old toothbrush. Once it's clean, wipe the stain with a damp cloth to remove soap residue.
To remove dark stains from shoes, use a damp toothbrush dipped in baking soda. Gently rub in a circular motion until the stain is gone, then wipe the area clean.
4. Criteria for choosing the right shoe washing liquid
If you're having a hard time keeping your shoes clean, then maybe you should invest in a good shoe cleaner that's equipped to remove tough stains and remove odor build-up.
With the right choice of shoe detergent, they can be cleaned from the inside out. With this in mind, we present the best laundry detergents on the market that are all made with herbal ingredients and formulated for use on a wide range of fabrics, from canvas to mesh. Keep reading to purchase these laundry detergent options.
Korean Blue laundry detergent:
This fine laundry detergent has a pH neutral formula that cleans thoroughly and prevents colors from fading.
Pros: It's herbal with some natural ingredients that are biodegradable and smells good. It protects and restores technical qualities such as water resistance, "breathability" and ability to remove moisture, even in branded fabrics. The bottle holds enough detergent for up to 128 loads.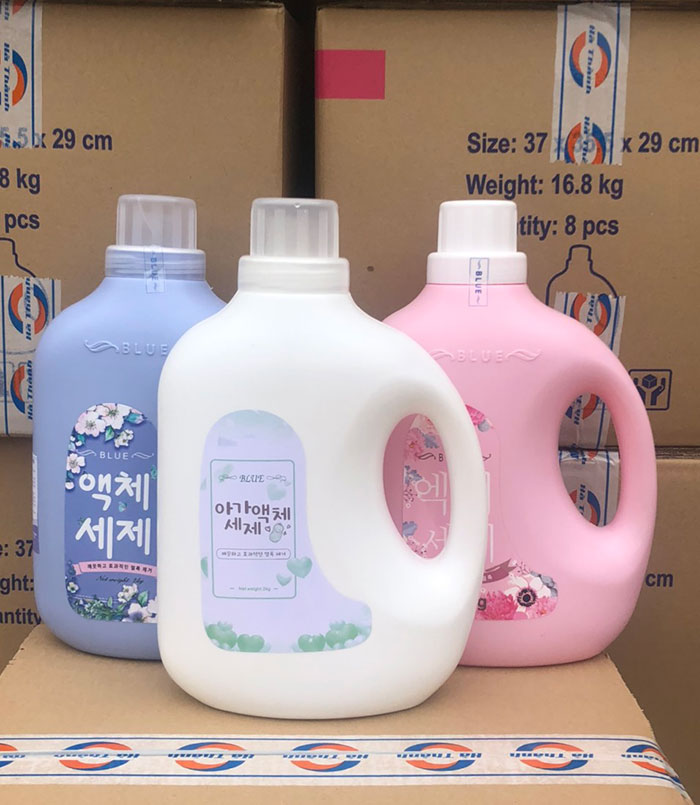 Clean & Clean laundry detergent:
This version of laundry detergent includes an all-natural enzyme blend of plant origin that helps break down oils, sweat and grease.
Pros: It's hypoallergenic, contains no harmful cleaning ingredients, and can get into hard-to-reach fabric crevices. It works well with all technical fabrics like spandex, spandex, mesh, microfiber, polyester and more.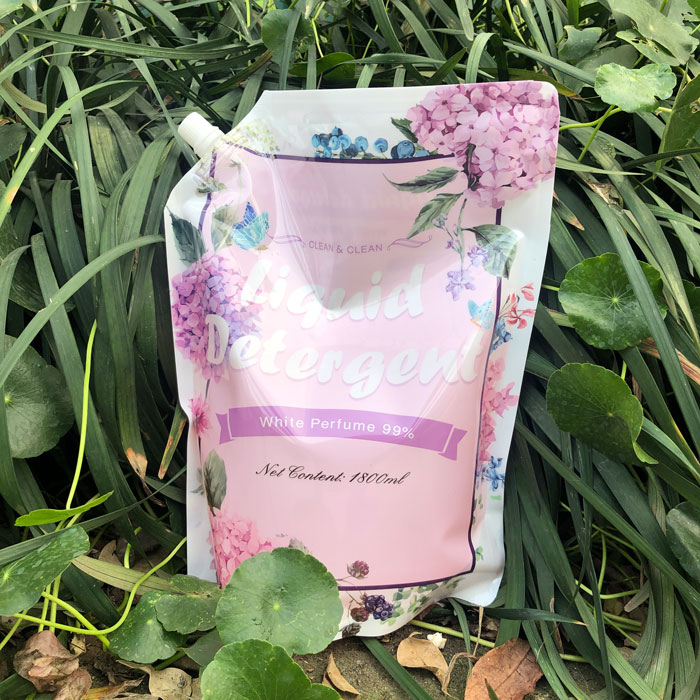 Choosing a good shoe washing liquid is not difficult, just follow the washing instructions and choose one of the suggested laundry products of Blue Ha Thanh, you will definitely succeed.