I. Why should I use glass cleaner?
We all want to have all glass surfaces, windows and mirrors perfectly clean. Nothing can be more annoying than spots of toothpaste above the sink or dirt in your field of vision while driving.
Needless to say much to understand, good glass cleaner is the key to a good vision.
There are many ways to clean mirrors, windows, or other glass surfaces in your home/car; But whatever your method, you'll need a reliable menstrual cleaner so you don't have to use a lot of unsafe cleaners to achieve a spotless shine.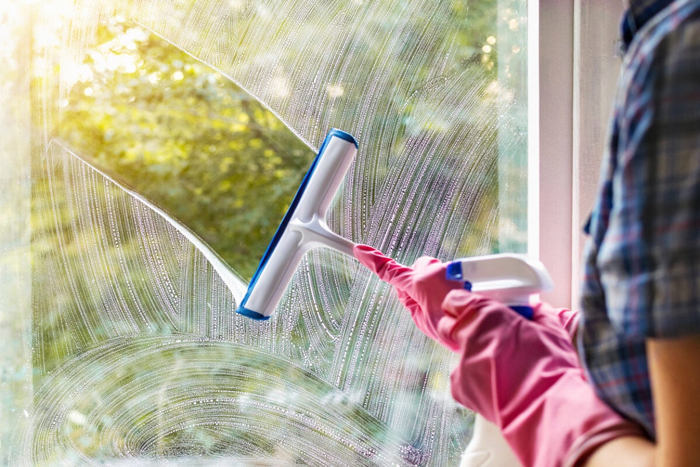 As with other cleaning products, there are several differentiating factors that determine which glass cleaner is good: effectiveness, odor, ingredients, toxicity, and price.
II. 7 Tips for using the most effective glass spray, shiny all surfaces
1. Clean from top to bottom with glass cleaner
If you really want your window or mirror to be streak-free, wipe it from top to bottom. Since specialized glass cleaner can drip, you can take advantage of gravity and let the glass cleaner drip onto areas you haven't cleaned yet. Start at the top and work your way up to ensure that no water droplets are left on the perfectly cleaned glass surface.
2. Use a rubber brush with glass cleaner spray
It's amazing how much difference this simple tool makes on glass surfaces, and when used with glass cleaner. Sometimes, wiping your head with a cloth doesn't remove all of the cleaning solution and having to re-wipe areas of the glass is a guarantee that you'll end up with a patchy streak.
However, using a rubber brush will make it easier to polish each part of the window. A rubber broom with a long handle is a must if your home is designed with tall windows, and it will also do the double duty of cleaning bathroom walls and doors.
3. Clean the surface with cotton swab with glass spray
No matter how hard you try, dirt seems to accumulate in the corners or crevices of the glass surface and it's very difficult to get it out unless you have the right tools. Cotton swabs are ideal for cleaning hard-to-reach areas of your home's windows. It's the perfect size and does the trick relatively easily with window cleaner.
4. Use newspaper to clean the glass surface in combination with clean glass cleaner
Some housewives say that it is very effective to use a newspaper to polish the glass surface. It works and can be very effective, but many people don't like to have newsprint in their hands. The newspaper is also unusable once it is wet. But if you find that towels and fabrics aren't right for your windows, the newspaper is worth a try.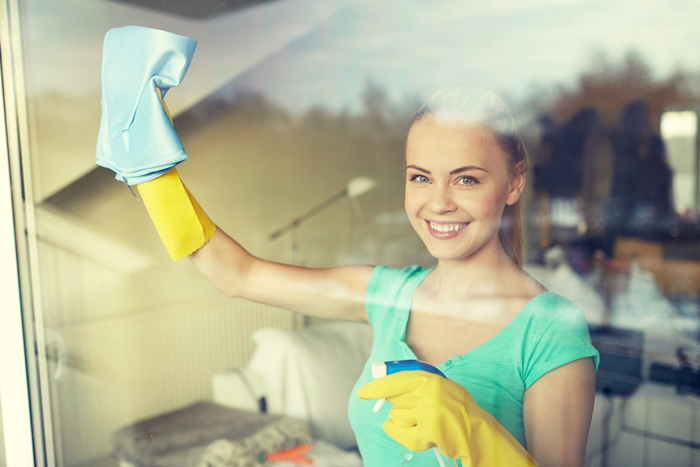 III. 5 Công dụng tuyệt vời trong công thức nước lau kính
1. Tẩy dầu mỡ các thiết bị nhà bếp
Nước lau kính siêu sạch là một chất tẩy dầu mỡ hiệu quả, rất hữu ích trong nhà bếp. Xịt xuống mặt bếp, máy hút mùi, tấm phản quang, thiết bị chiếu sáng và bất kỳ bề mặt bếp dính dầu mỡ nào khác. Để trong khoảng 10 phút, sau đó lau sạch bề mặt bằng khăn mềm. Đối với các bề mặt tiếp xúc với thực phẩm, rửa sạch bằng nước thường sau khi tẩy dầu mỡ.
2. Use as an all-purpose bathroom cleaner.
You've used window cleaner on your bathroom mirror, but did you know it's also a great toilet, bathtub and shower stain remover, and vanity cleaner?
Spray glass cleaner on the toilet, leave for about 5 minutes and scrub as usual to remove stains. For bathtubs, showers and vanity tops, apply detergent to the surface, wipe clean with a microfiber cloth or sponge, and rinse with plain water.
3. Remove stains on carpet.
Window cleaner also works as a carpet stain remover! Wet the carpet stain with glass cleaner, then gently blot the stain with a clean cloth. Repeat if necessary until the stain is gone.
4. Clean the interior of the car.
Glass cleaner is the ideal solution for cleaning car interiors, as it can be used on a number of surfaces, dries quickly and leaves no sticky residue. Spray on a clean cloth and wipe down the dashboard, control knobs, steering wheel, center console, door handles and other nooks and crannies.
You can even lightly mist fabric seats and rugs and let them air-dry, eliminating lingering odors. One note: Do not use glass cleaner inside tinted windows, as it may damage the color!
5. Polish doorknobs and faucets.
Because they are highly touch-sensitive objects, door handles and faucets can quickly lose their luster. Use glass cleaner and soft cloth to polish the glass and remove fingerprints, water stains, and other build-up.
IV. Why should you use Blue 650mL glass cleaner?
a. Formula:
Blue glass cleaner 650mL uses a special cleaning formula with a super clean – shiny – dust-proof formula, free of ammonia and chemical scents, soaps and dyes that cause stains.
b. Design:
Blue 650mL Glass Cleaner has a very economical spray bottle design and sprays more evenly on stains than some other cleaners, so it may only take a few swipes to get a clear glass surface like crystal.
c. Uses:
In addition to glass surfaces, glass cleaner  is also suitable for other surfaces such as: sinks, mirrors, glass shower doors, ceramic tiles, fiberglass, natural stone, plastic, chrome and porcelain without abrasive wear. object, so you don't have to worry about it scratching the surface of the place being cleaned.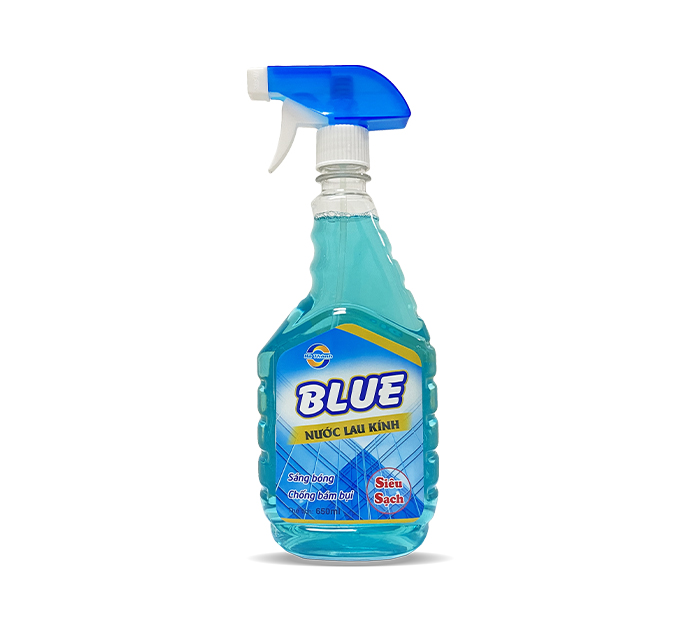 With a new generation formula, it helps to clean glass surfaces, especially without leaving streaks, limiting dust, effectively deodorizing and at the same time leaving a fresh scent for your home space. Effectively used for all types of clear glass, frosted glass, mirror, crystal utensils, car glass…
d. Element:
Natural plant extract glass cleaner ingredients to remove dirt include; stains such as fingerprints and other sticky residues. Suitable for use around the house.
Its light sea breeze fragrance is sure to leave your home looking shiny and spotless while feeling fresh all year round.
Glass cleaner is a great invention, making housework less strenuous; moreover, health and living environment are also safer. Wish you have a great experience when using our Blue 650ml Glass Cleaner!